The Séguin Genealogical Dictionary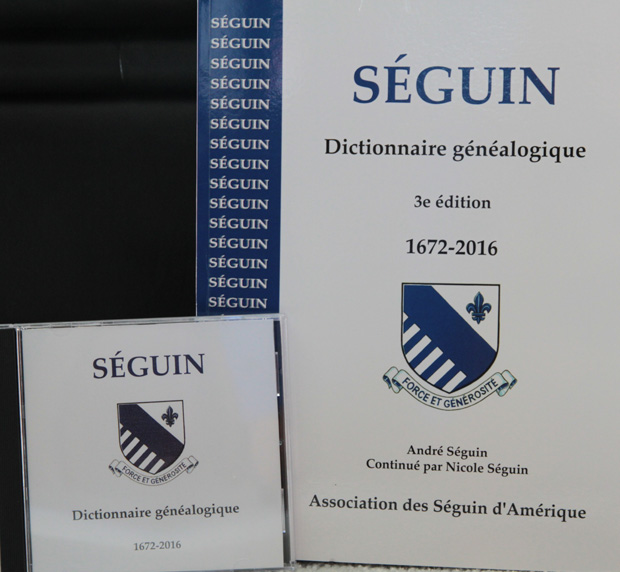 Volume published by l'Association des Séguin d'Amérique
The Séguin genealogical dictionary was prepared by André Séguin #006, one of the founding members of l'Association des Séguin d'Amérique and continued by Nicole Séguin.
The dictionary contains more than 1100 pages, hard cover book of exceptional quality contains about 6 500 family names with more than 16 000 descendants; the data has been collected from all over North America.
In this dictionary, you will fïnd interesting facts about the numerous descendants of François Séguin dit Ladéroute and his wife Jeanne Petit who were married in Boucherville, Qc, in 1672.
Also included are the descendants of Joseph Séguin and Thérèse Jourdain who were married in Québec city in 1744.
The dictionary also contains different sirnames adopted by certain families through the years, mainly those of Fagan, Ladéroute, Laderoot, Ladrow, Saillant, Sawyer, Sayah, Sayan, Dayen, Séguin, Seguine, Sequin and Sigouin.
You will find that the couples are presented in alphabetical order by the first name of the Séguin member of the family followed by the family name of the spouse. Moreover an index of wives and husbands will help to easily trace information of parents and their offsprings. Further more the authors have included references to biographical information published in passed issues of La Séguinière, the official bulletin of our Association.
This dictionary is also available on a CD-ROM version; it is a complete copy of the book, in a PDF version, and the data is readily available through a search engine incorporated on the CD.
To order these fantastic genealogical tools as soon as possible, please write to
M. Gilles Chartand
A MAGN1FICIENT GIFT that will be cherished by the whole family.